Marketing service Black Friday offers for 2021
The best Black Friday deals for marketers and business owners in 2021
Black Friday is almost upon us.
And the deals and offers are coming through thick and fast.
I'm putting a couple of my favourite deals together to help you get the tools you need to grow a better business in 2022.  
So, check out the incredible Black Friday offers below and grab yourself a deal right now.  
FYI - This list of Black Friday deals is specifically for those running or growing a business. I'm updating the list whenever I find a new deal that will help people grow their business.  
If you have a deal or find one not included, email me at support (at) growthmodels.co.
---
Expert help to turn marketing confusion into breakout growth
I'll kick this off with an offer to the Membership here at Growth Models.  
The Growth Models' Membership is the best location for you to improve your marketing and growth strategies.  
If you sign up, you get...
Instant access to our studies on 7-figure+ marketing and growth strategies proven to work
First call on new training programs and rock bottom prices
Access to an exclusive, growing community of other business owners and marketers that will help you grow your own business
Weekly office hours to help you get direct, live help for your biggest problems
Usual price is $290 / year.  
Black Friday deal price - $145
Sign up for instant access here
---
The system to scale service businesses to 6-figures... fast
This is the course that outlines the exact process I used to grow multiple service businesses to 6-figures in revenue with predictability.
Sign up now to get instant access to...
Over 4.5 hours of video training
12 "fill-in-the-blank" templates for various high-impact marketing assets
4 benchmark quizzes to help you better track your progress
5 uncut interviews with other 6-figure service businesses explaining how they crossed the 6-figure threshold
This course has helped a lot of other service providers grow a successful service-based business.  
And you can get instant access for a whopping 75% discount.
Usual price - $2000
Black Friday deal price - $500
Software Black Friday deals
Below is a collection of software deals for the Black Friday weekend.  
The easiest drag-and-drop landing page builder in the world
For the vast majority of small business, I recommend Leadpages as the best landing page builder.  
It's an affordable option that has all the functionality you'd need.  
And for the Black Friday weekend, you can get a whopping 60% off. Sign up and you'll be able to...
Create beautiful landing pages that generate more leads for your business
Set up full checkout funnels to turn traffic into paying customers
Establish high converting popups and email captures across your site
All you have to do is go to the below link and hand over your email address to get notified.  
Check out Leadpage's offer here
---
The best lead generation tool available
OptinMonster is one of the best lead capture services out there.
From simple popups to in-line opt-ins and even gamified experiences, OptinMonster has it all.
I use it on this site to great effect and I've seen it add thousands of subscribers to client email lists after implementing super simple campaigns.
They're running a big Black Friday sale. But before the details of that are released you can enter a giveaway to win a MacBook as part of their Black Friday deal.
Check out OptinMonster's deal here
---
The best WordPress WYSIWYG editor
Before I moved my site to Ghost for the newsletter function, I was using Elementor.
I still have a couple of clients I advise who use Elementor as their primary design tool for their site.  
It's super easy thanks to the WYSIWYG editor and is damn fast considering all of the things you can do with it.  
If you have a WordPress site, you need to consider Elementor.  And there's no better time than now thanks to their 50% off BFCM sale.
---
The best all-in-one prospecting and CRM
As a freelancer, I leaned on Snov.io on a weekly basis.  
Whether it was pitching my service to new clients through cold outreach, or simply looking to get on someone's radar, this was the tool I used.  
I've not found another tool that's so good at finding the right email address for your perfect contact, and then automatically adding them into an email sequence to turn a stranger into a friend and customer.
Doesn't matter what your business is, if you have to connect with other business people, Snov.io will make that so much easier.  
The Snov.io Black Friday sale is knocking 50% off the price, and I'd highly recommend you get it.
---
Web Hosting Black Friday Deals
Need to speed up your website or are you just about to jump into a new business and need a solid web presence?
These Black Friday deals should help.
The best hosting service for WordPress sites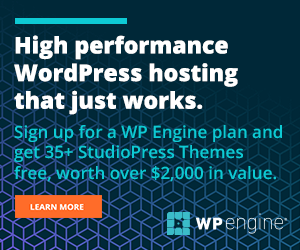 For a very long time I used WordPress as my CMS (it's one of the most popular CMS's in the world).
And I used StudioPress themes for my WordPress site. they were easy to use and helped me clear my first $100,000.  
Now, WPEngine is offering 3 months free for you to see just how far you can grow your business with...
Dedicated WordPress hosting for blinding fast speeds
Countless well designed and optimised themes
Expert WordPress help from their support staff
The Black Friday deal gives you 3 months free when buying an annual or shared plans. All you have to do is go to the below link and use code "WPE3FREE" when checking out.  
---
Education Black Friday deals
Below is a list of Black Friday offers and deals to help you step up your business and marketing game.  
A detailed system to getting more qualified leads with only a handful of blog posts
I've been a huge fan of Chris's work for a long time. So much so that I bought into his top-tier training program a few years back.
Out of all of the training programs I've bought over the years, Chris's is one of 3 I can easily prove the value of. And by prove the value of, I mean I made more money back than I paid within a few weeks.  
Chris is running a Black Friday sale on a training explaining how you can get far more traffic to your site with... less content? Sounds odd, I know. but it works. And you should check it out.  
---
Easier access to the world's most valuable source of education
Books have to be one of the best forms of education for any business owner.
You can get access to a very experienced person's life's work, distilled to a few hundred pages, for only a few bucks.
Audible gives you another way to consume that knowledge through audio books.
And, right now you can get 3 months of Audible for only $0.99.  
A crazy black Friday deal that shouldn't be missed.